Standard Support Bundle Addon
Extra Support Bundle for your Website Maintenance Service
14% OFF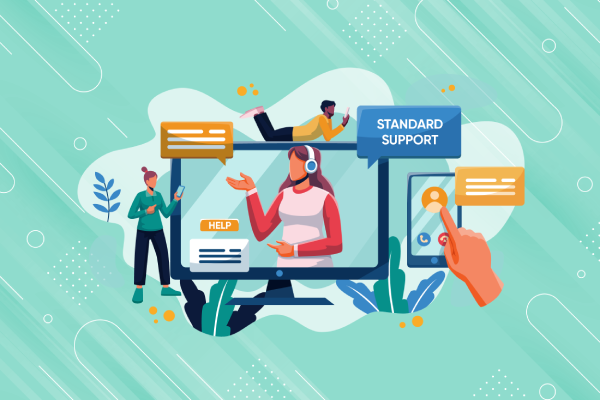 Request Custom Quote
Standard Support Bundle Addon
The standard Support bundle is an extra support scope for your existing website maintenance program. Each bundle comprises 5 tickets that you can raise in your remaining tenure.
5 Ticket Bundle
Raise 5 Support Request
Adds Extra Support
Applicable to :
WordPress Maintenance Plan
WooCommerce Maintenance Plan
Get Instant Support for WordPress or WooCommerce
Applicable to Existing Website Maintenance Services Only
The "Standard Support Addon Bundle" is designed to provide comprehensive technical support and maintenance for your website by adding additional scope to your existing maintenance plan. This bundle focuses on Technical Maintenance and Troubleshooting to ensure that your website is always running smoothly and efficiently. With this bundle, you can rest assured that your website is protected from security threats and is always up-to-date with the latest core versions. Additionally, this bundle provides you with the peace of mind that comes with having a team of experts on hand to address any technical issues or errors that may arise. By investing in the "Standard Support Addon Bundle for Website Maintenance Service", you can focus on growing your business, while we take care of the technical details.
The Standard Support Scope is highly wide, however, below are some coverage segments:
Downtime Support: refers to technical support to address issues related to website downtime. Website downtime can be caused by a variety of factors, such as server errors, hardware failures, software updates, and security breaches. When a website goes down, it can have a significant impact on a business, resulting in lost revenue, decreased website traffic, and damage to the website's reputation.
Technical troubleshooting: support with diagnosing and resolving technical issues with the website, including broken links, error messages, and other technical issues.
Performance optimization: assistance with website speed optimization, caching, and server-side performance tuning.
DNS Management Assistance: assistance refers to technical support to help you manage domain names and associated DNS settings.
Frequently Asked Questions
---
What is Standard Support
Standard Support typically refers to ongoing technical support and maintenance to ensure that a website remains functional, secure, and up-to-date. This support can include tasks such as updating core and plugins, fixing bugs and errors, and providing customer service for issues related to website functionality. Primarily it focuses on technical maintenance and troubleshooting.
---
What type of Support is Covered under this?
Here are some examples of standard support requests:
Website not working or down
Form not working or not receiving email
Menu not working on mobile devices
Broken Link Fix Request
Link not working
Unable to log in to Admin Area
The above are only examples, the technical scope coverage is wide enough to take care of your website.
---
What is not covered under this support bundle?
Here are some examples that do not cover under standard support:
Content Add/Edit/Update Request
Image Update Request
Communicating with third-party providers for technical issues
Adding or designing a new page
Adding New Plugins or Develop New Modules
Uploading New Products
Any Third-Party Service Implementation
Etc.
---
Does it Carry forward to my next maintenance tenure?
No, it does not carry forward to your next maintenance tenure.
---
How does it work?
Once bought this bundle, our client support team will add the additional scope to your maintenance package, and you can further raise tickets against the stated scope.
---
Can I buy the bundle without Active Maintenance Service with you?
No, It's applicable to active maintenance contracts.
---
Is it refundable?
Unfortunately, the item/service is not eligible for a refund.
Popular Items From the Category