Festival Social Post Design Bundle
Greet your audience with sophisticated designs that convey your well-wishes in style
14% OFF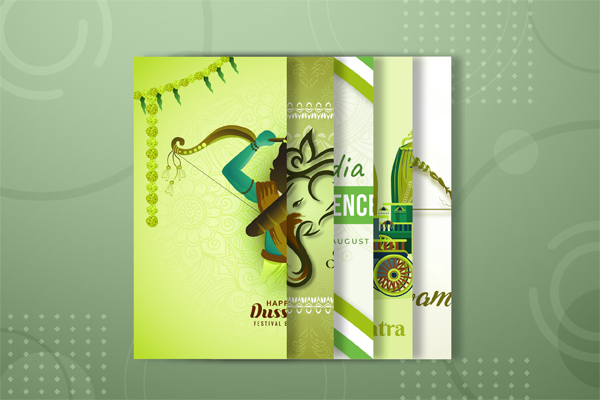 Request Custom Quote
Festival Social Post Design Bundle
Festival Social Post Design offers a collection of beautifully crafted social media posts that are perfect for promoting your festival, event or celebration on various platforms, all in one convenient Bundle.
Includes 5 Creative Designs

1080px by 1080px Resolution
PNG Format

Maximum 3 Revisions/Design
Used For :
WhatsApp
Facebook
Instagram
LinkedIn
Twitter
etc.
Delivery Timeline :
2 Business Days
Case Studies
3 Days Post Delivery Support
Maximum 3 Revisions/Design
Festival Social Post Design services offer a range of benefits that can help you to promote your festival or event more effectively and efficiently, while also enhancing your brand's image and reputation.
Stay Connected: By wishing your audience with visually appealing and engaging social posts, you stay on top of their mind and business considerations.
Increased visibility: By using visually appealing and engaging social media posts to promote your festival or event, you can increase your visibility on various platforms and reach a wider audience.
Improved brand image: Professional and high-quality social media posts help to improve your brand's image and credibility, making it more attractive to potential attendees and sponsors.
Enhanced engagement: Social media posts that are designed to catch the attention of your target audience can lead to increased engagement, such as likes, shares, and comments, which can help to generate excitement and anticipation for your festival.
Cost-effective promotion: Festival Social Post Design services offer a cost-effective way to promote your festival or event, as it eliminates the need for expensive print ads and other traditional forms of advertising.
Flexibility: Social media posts can be easily customized and adapted to fit your festival's theme, tone, and messaging, allowing you to communicate with your audience in a personalized and meaningful way.
Measurable results:

Social media platforms provide analytics tools that allow you to track the performance of your posts, including engagement rates, reach, and impressions, helping you to refine your social media strategy and improve your results.
Frequently Asked Questions
---
How much time it will take?
It will take 2-3 Business Days.
---
What support or info do you need from my end?
Your company logo, text content, and any specific images you wish to use on the post design.
---
What are Deliverable Formats?
We will share all the posts in PNG format.
---
What is the image resolution?
1080px by 1080px will be the provided image resolution.
---
Where I can use the designed post graphics?
You can use these on WhatsApp, Facebook, LinkedIn, Twitter, Instagram, and any other platform that allows posting images.
---
Is it refundable?
Unfortunately, the item/service is not eligible for a refund.
Popular Items From the Category